How Long Should You Wait to Take Another Pregnancy Test
For most women in Australia, the decision to take a pregnancy test isn't an easy one. The good news is that pregnancy tests aren't hard to get, aren't very costly, aren't overly complicated, provide results reasonably fast, and are very accurate.
While it's true that pregnancy tests performed at home have a high accuracy rate, there are times when it's a good idea to take another test for various reasons. here are some possible explanations for taking another test:
The test was affected by a medication that you were taking at the time.
You did not follow the directions given to you.
You wish to take another pregnancy test.
You took the pregnancy test earlier before the expected period date and aren't sure about the findings
Your findings do not correspond to the actual pregnancy symptoms you are experiencing.
All these are acceptable explanations for taking a pregnancy test more than once, but how long do you need to wait before taking another test?
Adhere to the instructions on the pregnancy test
The instructions you'll find in most pregnancy test kits recommend that you wait at least one week before taking another test if the first one turns out to be negative. This is because your body needs enough time to produce enough hCG (human chorionic gonadotropin). This way, the hormone will be detectable in the urine when you take another test.
Note that hCG levels practically double every 48 hours, so you could decide to take a test before the week is out. The only problem you will face is the extra expense of acquiring the test kits. It is possible to obtain a negative pregnancy result until your body produces enough hCG for the test to show a positive pregnancy test result. So, even if you are pregnant, you will wait longer to get the confirmation.
It may be challenging to endure emotionally as you wait for the body to produce enough hCG. Some women in Australia even take risks like consuming alcohol since a pregnancy test turned out to be negative, despite the possibility that they are still pregnant.
It is usually a good idea to "act pregnant" until you have confirmation that you are not pregnant. This will safeguard both your health and the health of your little one in case you are pregnant. Until you prove you are not pregnant, you should "act pregnant."
A Frequent Problem: Testing Too Soon
Some pregnancy tests offer that they can provide reliable results on the day your menstruation is expected to begin. Others state that they can offer to detect pregnancy outcomes even before you miss the period. Because pregnancy tests have decreased in price in recent years, many women are testing for a pregnancy at an earlier stage in their cycle in an attempt to confirm if they are actually pregnant.
If you test for pregnancy sooner, you run the risk of getting an inaccurate result. The reason for this is not because pregnancy tests are faulty. Instead, there is simply not enough hCG to generate a positive result in the test kit.
This means that the pregnancy test is still working and can accomplish what it promises to do, which is to detect hCG at certain levels. In addition, your body is producing hCG as it should at this point in the process.
If You Don't Wish to Wait Before Re-Testing
In some instances, women find it hard to wait for a week before taking a subsequent test. This results in a significant number of individuals testing before the end of the week.
There are a few possible outcomes:
You decide to take the test, and the results are good, so you make an appointment for prenatal care.
You decide to go ahead and take the test anyhow, but the results come back negative.
If the test comes out negative, you will need to continue testing on a daily basis either until you obtain a positive result or until your next appointment with your healthcare provider.
Do not put undue stress on yourself by taking an excessive number of pregnancy tests. Even if you choose less costly pregnancy tests, the total cost might be relatively high. Seeing a negative pregnancy test result frequently also comes with mental and emotional repercussions, all of which should be considered.
Negative pregnancy tests that cannot be explained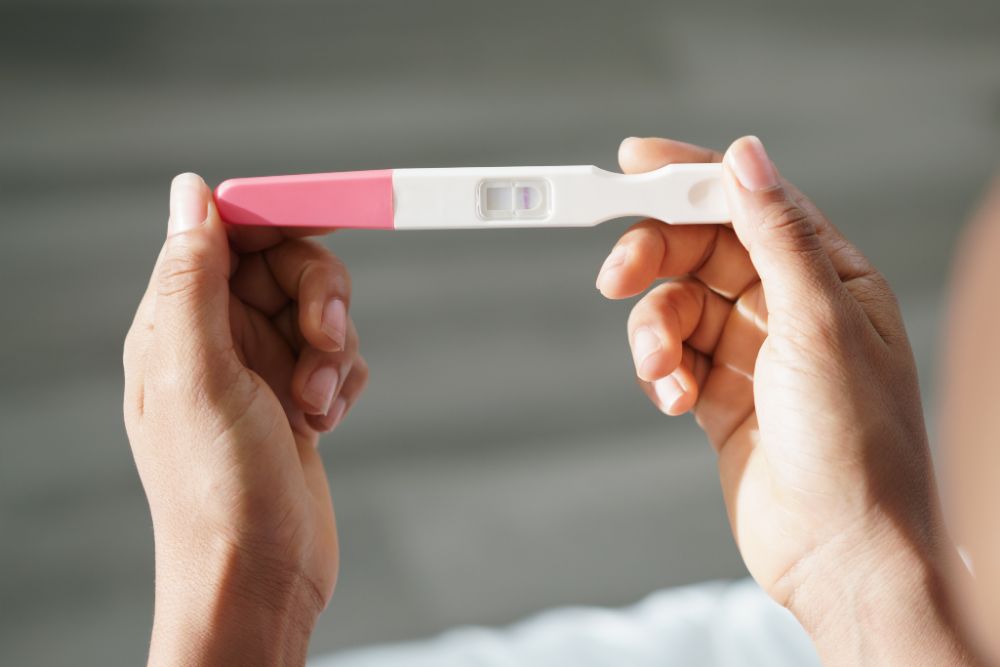 If you continue to obtain negative pregnancy test results after a week and still have not started your period, getting a physical check by your doctor or midwife is a good idea. They will help confirm if you are in good health. This will help determine whether or not you are indeed pregnant.
When it comes to a late period, there are a number of potential causes other than pregnancy that should be put into consideration. A physical exam performed by your practitioner may assist you in determining the answer to that question.
Seeking the Assistance of Your Physician or Midwife
You may also want to talk to your doctor or midwife about getting a blood test to determine whether or not you are pregnant. Certain things can only be determined via the use of a blood test.
Your medical care team will be able to assist you in determining how much time should pass before you take another pregnancy test. They'll also help you determine whether or not a blood pregnancy test might be helpful in your particular circumstance.
A blood test, which looks for the same hormones as a urine test, may not be suitable for everyone. Despite the fact that you may get a negative test result, you may be pregnant. This is especially true if you are experiencing some early pregnancy symptoms.